Apr 1, 2021 04:09 PM Central
Jeremy & Sarah Enquist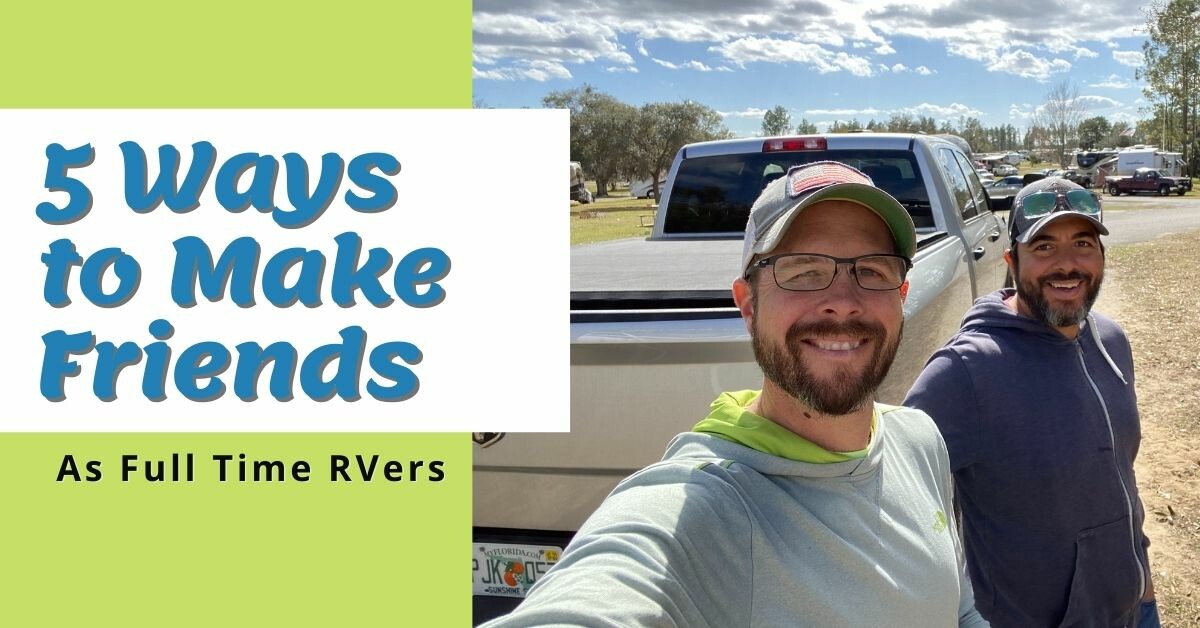 "A day without a friend is like a pot without a single drop of honey left inside." ~ Winnie the Pooh
When our family decided to live full time as RVers, it wasn't to live in solitude. Oh no, we wanted to make friends - lots of them. We wanted to sit by the campfire and hear people's stories. We desired connecting with others that were living the RV life.
At first, we felt a little silly. Kind of like being in Kindergarten all over again. "Hi, my name is Sarah. Want to be friends?" But then it became easier, and now we feel fully connected to the RV Community.
In this post I will share 5 tips for making friends as Full time Rvers.
TIP #1: Connect with Full Time RVers on Instagram
When we sold our home and bought our RV, we announced it on Instagram, because that's what people do, right?! We used hashtags like #newrver, #newbiervers, #fulltimervfamily. Next thing we knew, other RVers started to follow our Instagram account.
You can also find RVers by searching hashtags. On Instagram Search, type in a hashtag that an RVer would use. When you bring it up, click on "recent" to see what people are currently posting. You can even Follow the hashtag so you can see RVers using the hashtag in your feed.
Our favorite hashtags to find friends:
We also started our own hashtags for RVers to use.
Now that you found the RVers, how do you make friends with people you haven't met in real life? Great question! You have to be friendly. Find RVers that seem like they would be friends in real life and get to know them through what they post. Comment on their posts (and of course heart their posts). Many RVers will ask a question that you can answer, and this is how they will get to know you. RVers who do stories (the round bubbles at the top of Instagram's Homepage), often ask questions or ask for tips or advice. This gets conversations going in the direct messages or DMs.
One of the first RVers I met on Instagram is Jen from
Stairs Up, Handle In
. I noticed that she had a Grand Design and was new to full time RVing like we were. The post that caught my attention was when she shared about putting her Christmas Décor in storage. I think we ended up with eight totes of Christmas Décor in our storage when we went full time. While we have not met in person, Jen has inspired our family to see places in Florida that we would not have known about outside of her Instagram posts.
TIP #2: Find Full time RVers on YouTube.
There's nothing like watching someone's story on YouTube and feeling like you really know them. So much so, that when you met them in real life, you might know so much about them and they have no clue who you are. Whoops! Done that! Circle back to tip one and see if your favorite RV YouTubers are on Instagram. It is easier to connect on a personal level on Instagram then it is on YouTube.
On YouTube, be sure to leave a comment on the videos you watch. YouTubers cannot see who leaves Thumbs Ups, but they can see who leaves a comment. We love it when people introduce themselves on our YouTube channel. We also love to keep up with our friends by watching their travel videos.
We found
The Party of 6
on YouTube right around the time we first started Full Time RV Living. They were in the downsizing and selling their house part of their journey at the time. Later when we were in Orlando, Florida I found them on Instagram and saw that they were at the same campground as us. This was one of those times I was like the Kindergartener. I messaged Tiffany from The Party of Six on Instagram and invited them to dinner. It was literally our first conversation and I'm so thankful they said "yes."
That leads us to the next tip.
TIP #3: Invite your RV Neighbor to Dinner
Most RVers like to cook outside, right?! Ok, so maybe it's not as common as we thought it would be. We have a Blackstone Griddle, and we try to make cooking outside a part of our day when the weather is nice. We have asked many RVers to dinner. Some take us up on the offer others do not. We found that many full time RVers will, but weekenders or vacationers may not.
We met our friends Amber and Greg when we were at the Williamsburg, VA Thousand Trails Campground. We were neighbors. They happened to have two mini-Dachshunds like we did. This of course started a conversation. When we found out they were full time RVers like us, we invited them to dinner. They could not do dinner, so we decided on breakfast instead. We had so much in common that we keep up with each other's travels so that when we are in the same area we could meet up.
If asking an RV neighbor to dinner is a little intimidating, ask them to join you for drinks, or cocoa and smores by the fire. Our friends the Party of Six did that and we met quite a few families by going to their fireside event.
TIP #4: Join an RV Group
When we met Ryan and Tiffany of The Party of 6, they introduced us to Fulltime Families. Fulltime Families has a free
Facebook Group
, but they also have a membership group. While we were at Thousand Trails Orlando, we met many families who were apart of Fulltime Families. The membership gives you entry to a private Facebook Group and Subgroups. There are even messenger chats for campgrounds so that we can find out if any Fulltime Families are at the campground when we get there. This takes the guesswork out of knowing if a family will take you up on your offer for dinner.
Interested in Joining Fulltime Families? You can get 10% off when you click the link here.
Our children love connecting with the friends they have made as we go from one campground to the next.
You won't make friends just by joining Fulltime Families. You still have to do the work and utilize the chats and groups that have been set up.
TIP #5: Find Campgrounds Where Full Time RVers Go
After 8 months on the road, we have been to several different kinds of campgrounds, State Parks, KOAs, Private Resorts, and Thousand Trails Campgrounds. In the summer it was little harder to find the Full Time RV families, but in the winter many of the families go south for the winter. We found many Full Time Rvers staying at
Thousand Trails Campgrounds
.
Thousand Trails is a membership campground that allows you to stay free at campgrounds within the network. There are quite a few membership options, we started with the Camping Pass and just recently upgraded to the Elite Basic. With the Camping Pass we could book campgrounds 60 days out and stay up to two weeks at a time. Then we have to spend a week out before we stay at a Thousand Trails Campground again. With the Elite Basic we are able to go from Thousand Trails to Thousand Trails and book 120 days out.
Many fulltime families use Thousand Trail Campgrounds to help them save on costs of RV Travels. Having a Thousand Trails Camping Pass or Membership and a Fulltime Families Membership, helps us find Fulltime RV families even faster.
Of course, when you have to say goodbye to friends, it nice to have a way to stay connected until you met again. Circle back to tip number one and stay connected on Instagram.
So, what are your tips to making friends on the road. Share below in the comments.